Cpl's Future Working survey found that out of over one thousand workers, only 18 percent of them want to work remotely full time, 31 percent want two days in the office, 28% want three, and only 3% would like to return to the normal five-day-a-week office setting.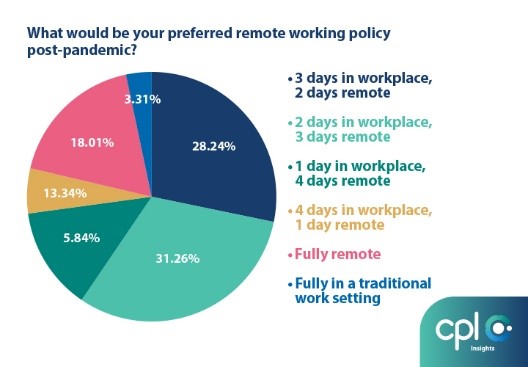 More on their survey, almost 70% found that WFH and the lack of commute in their day positively impacted their wellbeing. As a result of this extra time, they have been able to dedicate more of their day to family, exercising or upskilling. According to the findings, the average commuting time (for those with a commute) in Ireland in 2019 was 28 minutes meaning people now have an average of 56 minutes extra back in their day. However, only one-fifth of Irish jobs offer the ability to work from home. Should companies start thinking otherwise? 
What are the benefits of working in the office less than five days a week?
Is it beneficial to work less than five days a week? Other countries have been trying it but is it going to work well in Ireland? Most companies are still working five days a week but on the condition that they shouldn't be in the office every single day. What has been the effect of this on companies and their employees?
Control over time
Rob Daly, chief customer officer at Cpl, remarked, "The ability to have more control over the day has definitely benefited workers. The lack of commute has allowed people to manage their day in different ways. This has been viewed as mainly a positive experience, with some people never wishing to commute again. However, it means that for people with families or caring roles, as soon as they turn off the laptop, they are straight into domestic or caring responsibilities with no downtime."
Increase in productivity
But what does this mean for worker's productivity? 89% feel that their productivity levels are the same or greater since WFH, regardless of whether the worker has a family or not.
However, 22% feel that the lack of social interaction, loneliness, the inability to switch off and the recurring lockdowns have impacted their well-being negatively.  24% are now working longer hours and allowing their work time to eat into their pre-covid commute time.
More trust and respect in the workplace
"What we are seeing through the data is that there is way more trust and respect for WFH. In the past, not every organisation or "boss" would have trusted WFH as a rule. Our productivity figures and other external reports are indicating that people are feeling very productive and, in some cases, more productive than they did in the old office Environment," said Rob
He continued: "With the lack of face-to-face interaction, there have been other impacts which have understandably taken their toll. What we are seeing as an employer and across many other organisations, is that there is a genuine effort to ensure people can connect. Not just on a professional level, but on a social level. Increasingly, HR teams have done tremendous work in facilitating this, from the initial Zoom quizzes and team parties to Mindfulness classes, Steps Challenges, and virtual coffee meet-ups."
In order for this hybrid model to work companies must redesign how work is done.
In another recruit Ireland article, CIPD Ireland Director Mary Connaughton said that the solution to that is having a proper blended mix of work in place. According to Mary, it shouldn't be a case of half the workforce in one day and half the workforce in for the other –  it must be strategic so that when people come into work to collaborate, the right people are there.  "Companies need to redesign how work gets done in terms of innovation, collaboration, and social chats, and for when people are at home," she said.
Having a work place that is safe and trustworthy starts with finding employees that fit your work culture and values. Advertise a job with us!