How have the new pay rises impacted Lidl's workers? Three employees reveal all:
Lidl's decision to introduce a 7.5 per cent pay rise has been warmly received by staff.
The raise, which hit staff bank accounts in March, is worth between €2,000 and €2,500 a year for each employee.
It comes hot on the heels of the retailer's announcement that it would raise minimum pay rates to €13.85 per hour, the recommended 'Living Wage' for Ireland.
Speaking about the announcement, Maeve McCleane, chief people officer at Lidl Ireland and Lidl Northern Ireland said: "To recognise the impact of the cost-of-living crisis on our team members, we have significantly increased our investment in pay rises by 30 per cent this year to support our employees as best we can. Lidl now offers the most competitive and all-encompassing suite of benefits in the jobs market at present."
The pay rise also gives practical recognition to the tremendous efforts made by the workers during the pandemic, when all its employees stepped up to meet unprecedented challenges.
As well as investing €14m in pay rises, the company expects to create an additional 700 new jobs across its Irish operations this year. This includes its 178 store locations, its three regional distribution centres, and its Dublin head office.
That will bring its workforce on the island of Ireland to over 7000 people.
Here's how three of them feel about the recent cent pay increase: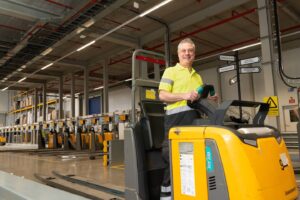 Dermot O'Brien, warehouse operative, Newbridge distribution centre
"When they called us in to the meeting to tell us we were all cheering and clapping, like after scoring a goal. We couldn't believe it. An hour after the meeting I was still picking my jaw up off the floor. It will make such a big difference to all of us.
Lidl is just a wonderful company to work for. The atmosphere is fabulous, and I think my 22 years working for the company speaks for itself.
I was one of the first to join Lidl, on the 11th of February 2001. At the warehouse we currently supply food to 52 stores in the area. When the distribution centre in first opened in Newbridge in 2019, me and my colleague Brid, another of the first people to join the company, were asked to cut the ribbon, even though, then Minister for Finance, Paschal Donohoe was there, so it was great to have the opportunity to be involved.
We're a team. We call each other brothers and sisters. Everyone is friendly, from management to the backroom staff. My nickname is Shakey because I dance like Shakin' Stevens.
Over the years the pay rises here have been good. The company is always giving us vouchers too, but the 7.5 per cent pay rise was absolutely fantastic. I was over the moon to get it. Compared to other supermarkets, we're top of the food chain.
From day one I felt like I mattered here. It has been a fabulous journey and the pay rise is the icing on the cake. Not just for me, everyone is smiling."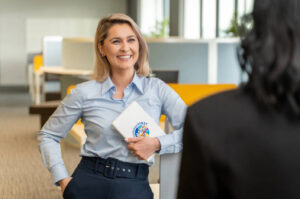 Roxana Galatanu, recruitment administrator, Lidl HQ, Tallaght
"I'm from Romania. I came to Ireland in 2007 and joined Lidl a year ago, so I'm not even here a year yet. Before that I was a legal executive in a law firm for more than five years. I left because I felt there was little opportunity for me to progress at the law firm.
I applied to Lidl and was lucky enough to be accepted. At Lidl you get benefits like a pension as well as opportunities to develop. They also encourage you to have a work life balance.
The pay rise will make a huge difference because my boyfriend and I are saving for a mortgage and the more you earn the more money you can apply for. Also, it means we can save more for the deposit. It helps lift the burden.
It was so unexpected, such a nice surprise. Everybody was delighted. In my experience two or three per cent is the norm – 7.5 per cent is the biggest increase I've ever experienced.
It is such a good boost to morale for everybody. I will definitely stay. I love the culture at Lidl and there are great opportunities to progress. Here, if you put the work in, you get the results out.
They always want your feedback too, so you feel you have a voice. In a big company, it matters to know that you matter."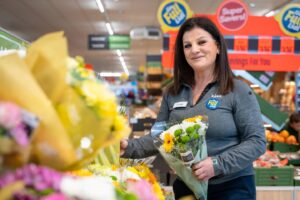 Fiona Marcy, customer assistant, Newbridge store
"Before joining Lidl I worked for 11 years in a clothes shop. I was on minimum wage during that time and never got a pay rise. I loved that job but in time I just couldn't justify doing it anymore.
I'm in my fifth year in Lidl, I joined 17th August 2018. Since then, I've had six pay rises in five years, which has been incredible.
The recent pay rise makes a huge difference to me. I've two kids and a mortgage to pay for on my own. My mortgage went up by €130 a month in January because of the increase in interest rates. I was going 'oh my god, where can I cut back to cover that?'.
When our manager told us about the pay rise all I could think was that it will actually cover the increase in my mortgage. It had felt like I'd had a noose around my neck. Now I could breathe a little.
At Lidl I can do extra hours or shifts if I need to make a bit extra, which is great too.
We weren't expecting this pay rise because we had only had one last March. Everyone was delighted because everyone is under pressure with the cost-of-living.
I see it in my customers too. Everyone is watching their money. Lidl is committed to trying to keep prices as low as it can, even though the cost of business has gone up. We've lots of new customers, and I get great feedback about products to try that we have instore, they're always recommending things to me.
For me, with my mortgage it's give me peace of mind to have such a secure job. This increase has just had a massive impact."
To find out more about job opportunities at Lidl click here.