With the beauty of hindsight, it's easy to look back and see some positives gleaned from the tumultuous COVID-19 pandemic.
Some would say it gave them the breather they never knew they needed; time to take it easy and sit with their own thoughts in a way they hadn't been able to do in decades. Others would say it taught them the importance of quality time with their loved ones, would claim that absence really did make the heart grow fonder.
Then again, a lot of us could say the pandemic brought us nothing but a few (or many) extra inches around our waistlines, a newfound aversion to dressing in anything other than pyjamas or tracksuits, and a devastating certainty that we are not destined to become Great British Bake Off starlets, and perhaps it's best we stick to the store-bought banana bread in future.
One thing the pandemic did bring to everyone's lives, however, is change … and tonnes of it! Almost overnight, the lives we once knew were all transformed, stripped back to the bare essentials through lockdown after lockdown.
Yet despite all this upheaval, it was in those early days of the pandemic that Anastasiya Sytnyk decided she wanted even more change, and sought to totally flip her career path on its head.
Still completing her journalism studies in NUI Galway at the time, and left feeling powerless to the many curveballs that COVID had thrown at her, she found comfort in making changes that she could be in control of.
"When the pandemic first hit, I was anxious in a lot of ways," she explains. "I was worried about how I would cope financially and I just couldn't figure out what to do with my life. I'd been trying everything I could think of for the last seven years to find a secure job in journalism, but was constantly rejected due to my age and lack of experience, or because people assumed from my foreign name that my English wouldn't be up to scratch for the job.
"So in 2020 I decided I would just start from scratch and see what was out there on the jobs market," she recalls. "At first, I tried searching and applying through sites like Indeed, but nothing was really working for me. The more jobs I applied to, though, I noticed that most of the companies I came across were looking for a link to my LinkedIn profile. Something I noticed even then, and that I've since discovered first-hand by working with both Google and Slack, is that your LinkedIn profile is the first thing that almost every single employer wants to look through. It's kind of moved away from looking through your social media, like Facebook or Instagram, to see what type of person you are. It's becoming all about LinkedIn instead, because that's basically your online CV.
"After seeing how frequently it was looked for just on Indeed, I decided to go have a look at my own LinkedIn and try to spruce it up. It was very basic, I didn't have much more beyond just my name and what you could barely call a photo. It looked really, really bland and needed obvious improvements, so I decided I would start from there and see where it took me," Anastasiya explains.
Over the course of the next few weeks, while using only the standard free LinkedIn package, Anastasiya set about making those improvements – ones that eventually earned her her dream job at Google before the year was out.
In November 2020, she was hired as an International Sales Development Consultant for Google. Her fluency in Russian, English and Polish were unique assets that helped her seal the deal and made her perfect for the role, but crazily enough it was an avenue she hadn't thought of exploring until the opportunity presented itself. Anastasiya hadn't even applied for the position when she was offered a job interview.
By honing her use of LinkedIn during her job search, she somehow bested the site's algorithm, so much so that recruiters began approaching her with offers, and she was no longer the one desperately sending out applications. When one of those recruiters turned out to be tech giant Google, Dublin-based Anastasiya couldn't believe her luck.
"It was just mad, I never had the confidence to apply to Google myself," she shares. "But they found me and they slid into my DMs.  I genuinely thought it was a scam when I first saw the message!"
So how did she do it?
"I knew the bulk of what I had on my CV was journalism experience, so I found all of my old articles, any and all bylines I've had, and made them available on my LinkedIn page. I made sure to include every single trivial job I did. If I could find any way it was relevant, I put it in.
"I tried to really expand my skillset by doing some LinkedIn courses as well, there were some really great ones for Word, some for Excel, and all of them were free! So I tried to really develop on that.
"One of the most obvious but effective things I did was stating on my profile that I was open to work, and I specifically wrote out what kind of jobs I was looking for. I outlined my interest in sales, marketing and journalism roles. A lot of the time the fact that I had a journalism background as well as diverse experience and interests beyond that really intrigued potential employers.
"Another good, really basic, tool that immediately boosts your profile is to have a really clear photograph of yourself. Just something a bit more professional looking so they can see 'ok, this is not just somebody's night out photo. This is a professional headshot, I can see what they look like, I can get a sense of what they're about.'"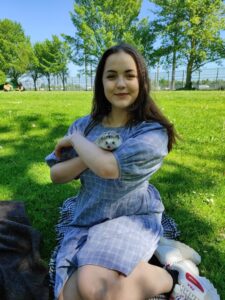 While you could pour endless hours into perfecting your LinkedIn profile, Anastasiya warns that there's little point to it unless you get eyes on your page. "If you're not following people or making new connections then it's very hard to make yourself known through LinkedIn. What worked for me was just searching through fields I was interested in. I followed a lot of people from NUI Galway, including lecturers, I chanced sending requests to a lot of people from RTE and so on, some pretty big names, and that's how I really built up my number of connections. Recruiters DO notice that!
"Really I think what made my LinkedIn work so well was that I just did a lot of 'cosmetic work' on it. It's really important to make sure that once an employer or recruiter clicks into your page it's extremely easy for them to see everything. Your work timeline has to be really clearly laid out and pretty much top notch. Of course you can remove certain workplaces that you don't think are beneficial to your look or that are irrelevant. The main thing is just making it very readable and aesthetically pleasing, make sure you convey that you're an active presence on LinkedIn and you're on top of what's happening in your industry of choice; try sharing a lot of posts by big-name brands or companies in your field. That's what I did with Google a lot of the time, they probably noticed me because I reshared a lot of their posts."
Anastasiya doesn't deny that it takes a lot of work, but she's of the mindset that anyone can land their dream job if their LinkedIn profile is strong enough.
"I spent a lot of time searching through LinkedIn and I applied for a LOT of jobs in that time," she confesses. "Even with all the changes I'd made to my profile, it wasn't an instant fix. I was applying to various roles non-stop for about two months before I started getting noticed by recruiters like Google. But I got there in the end, and I did it all with the free plan from the comfort of my bedroom, just setting aside some time to really flesh out my profile. It's definitely something everyone should consider if they're struggling in their job search, or if they just want to freshen up their portfolio online."