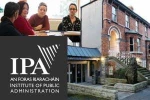 Institute of Public Administration
57-61 Lansdowne Rd`, Dublin Southside, Dublin 4, Co. Dublin
Summary
The Institute of Public Administration is Ireland's only public service development agency focused exclusively on public sector development. It delivers its service through:


Education and Training, building people's capability to meet challenges
Direct Consultancy, solving problems and helping plan, and shape the future
Research and Publishing - understanding what needs to be done and making these findings readily available.
International projects and cooperation.

We tailor our services to the particular needs of the public service and our private sector clients. Our blend of skill and experience means that we can develop and offer a service which meets our clients' needs precisely and effectively. Whilst our services are delivered mainly to clients in the Irish Public Service, we have a strong reputation and demand for our services internationally also.

Institute of Public Administration photos & videos
Institute of Public Administration updates
Jobs at Institute of Public Administration