As set out in the Action Plan for Apprenticeship 2021-2025, apprenticeships provide a highly valued pathway to careers and skills development, enabling apprentices to "earn while they learn".
The action plan includes a goal of 10,000 apprentice registrations a year by 2025. To achieve this, the number of active apprenticeship employers will need to increase to at least 12,000.
At the end of 2022, there were almost 9,000 employers with apprentices in training, with the number having risen steadily from 3,300 since 2014.
Actions were taken in 2022 to increase the number of employers, including the introduction of an employer grant of €2,000 per apprentice per year, an updated gender bursary of €2,666 and a sustained Generation Apprenticeship campaign throughout the year, which specifically targeted employers.
Up to 10 new apprenticeship programmes are due to launch in 2023, adding to the 66 programmes currently available.
'One More Job' initiative
Last week, Further Education Minister Simon Harris launched the Generation Apprenticeship 'One More Job' initiative in Sligo.
Given that small businesses with fewer than 50 employees make up more than 98% of businesses in Ireland, One More Job provides a package of practical support to micro and small businesses that will benefit from employing one or more apprentices in 2023. Small and micro employers can use apprenticeships to recruit and retain talent as well as upskilling existing staff.
Each apprenticeship job provides an opportunity for someone to secure employment and training and build their careers through the 'earn and learn' model.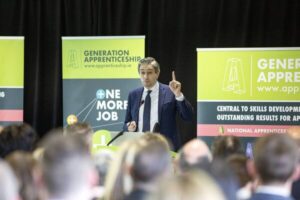 Through the One More Job initiative, employers will have access to free, expert advice on what apprenticeships will provide talent for their business, assistance in becoming an apprenticeship employer, free access to training for in-company mentors and guidance during the initial period of in-company apprentice training.
Dr Mary-Liz Trant is the first director of the National Apprenticeship Office (NAO), jointly established in 2022 by Solas and the Higher Education Authority to implement the Action Plan for Apprenticeship 2021-2025.
The NAO will drive expansion of the national apprenticeship system in Ireland, and communicate the many apprenticeship programmes now available.
"In five years' time, I would love to see apprenticeships established as a highly-valued source of talent across all 21st-century industries in Ireland, with at least 10,000 apprentice registrations per year and up to 20,000 employers using apprenticeship to recruit and retain talent," Dr Trant said.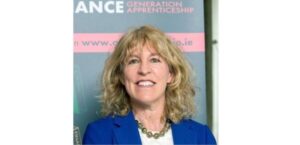 Awareness of apprenticeship opportunities among the public is growing, and the inclusion of apprenticeship opportunities on the CAO platform stands as another major step.
There has been a significant rise in the number of women building careers through apprenticeships, rising from 370 in 2019 to 966 women apprentices registering in 2022.
"We are at a tipping point with the enterprise community in Ireland, where it is no longer a choice between further or higher, male or female, it is just about talent and the quickest and most reliable way to access it.
"This is why we have so many new career routes on offer through apprenticeship and why it is more important than ever that girls and women have clear information and signposting," Dr Trant said.