Amid the ongoing debate as to whether workers are more productive at home or in the office, sales in a division of a big multinational leapt by 15 per cent as staff were brought back on-site.
As it happens, though, what made the difference wasn't the return of Unilever's staff to the office and the added creativity and collaboration from having the workforce in the same building. It was everybody else's staff having to go out to work more; the company's key product line was deodorant, and personal care was the only one of the company's many divisions to record growth last year.
So, with the return to the office, there are certainly winners with people having to shower and take personal care more seriously after a number of casual-care years of working from home since the Covid pandemic.
Although some, since Covid, may proclaim Fridays in the office a thing of the past – with the last working day of the week deemed a "WFH" or "work from home" day – some employers don't see it that way.
A recent survey of company bosses – a KMPG survey of CEOs at 1,300 of the world's largest firms – suggested that most believe workers will be back in the office every day within three years.
For now, research shows Irish companies are more constrained by a tight jobs market and are settling for fine-tuning their hybrid models. More than a quarter of almost 400 companies that participated in a survey by employers' group Ibec said that meeting employee expectations on hybrid working was the single biggest issue for management. About half said they found it significantly harder to recruit for fully on-site roles.
In many offices, it has become normal for staff to work from the office for a portion of each week. A recent survey of businesses in Dublin by estate agents Savills and the Dublin Chamber of Commerce found that 55 per cent required staff to be at their desks for two or three days but almost nobody was coaxing staff away from home on a Friday – a change that has had a profound effect on city centre businesses, including pubs.
Some Irish firms certainly see it as the future.
Margaret Cox, director of Galway-based recruitment and business services firm ICE Group, has long championed flexible working. Her company has about 60 staff with varied working arrangements, including four-day weeks intended to allow staff to extend their weekends as well as hybrid and entirely remote working.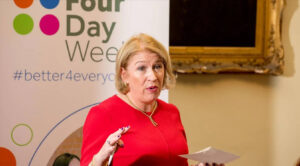 She anticipates a likely pushback against the balance generally being struck at present and suggests there is a need for a more clinical assessment of how well hybrid and other arrangements work if it is to be resisted.
"There is definitely a push towards getting everybody back into the office and we are going to see that more and more, particularly if the job market loosens up," she says.
"So the only way we [Irish workplaces] are going to be able to keep hybrid model is for it to be successful, but we have to be able to define what that success looks like. And to be able to measure it.
"At the moment, there's an absence of clear measurables and honesty in the discussion. All the employees will say we're very productive at home. All the employers will say: 'We're not so sure about that.' But they're not measuring it. And I think it's the measurement that's really, really important."
Ruairi Guckian, whose company GHR Consulting works with and advises around 60 small- and medium-sized businesses in Galway on human resources issues, believes many companies struggled to put structured policies in place around rapidly changing work practices during Covid. He thinks it became something of a free-for-all as many employees simply said: "I don't want to work in the office any more."
Now, he says, "companies are trying to put a little bit of structure on the situation and we would certainly be advising them to have a policy in place.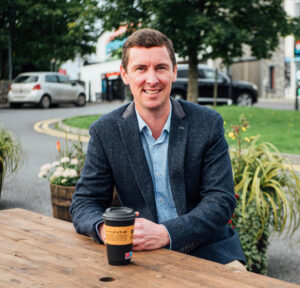 "What we're seeing is a lot of clients requiring employees to attend maybe two or three days a week, usually around Tuesday, Wednesday and Thursday, so they can schedule meetings and things like that, but focused in midweek because nobody wants to be in the office on a Friday," he says.
He doesn't see that changing as long as many employees have fairly easy options. As he sees it, staff retention is a "big thing".
"You are trying to retain your employees and to do that companies need to offer some kind of flexible thing," he says.
He and his own staff finish every working week a few hours early and he feels companies seeking to go back to how things were before Covid face a particular challenge where Fridays are concerned.
"I've sat in so many offices and you're looking at the clock; you're going out with friends or going on holidays or going away for a weekend away, whatever it is. Friday is a big one for people," he says.
Galway Chamber of Commerce chief executive Kenny Deery says the fall-off in on-site working in the city on Fridays is clear with businesses catering to office workers particularly affected.
"We are definitely seeing that Thursday is the new Friday phenomenon in some areas. Pubs still benefit from students and the attractiveness of Galway as a weekend destination – we would have a lot of people coming in – but coffee shops are definitely being hit," he says.
"Some are offering a more limited menu on a Friday and even closing on a Monday as a lot of businesses concentrate on bringing people in on the midweek days."
He says the chamber finds Fridays to be "tricky days" for hosting events.
"While businesses are still keen to be supportive, they are telling us they don't have the people in and are struggling to fill the table," says Deery.
At Intuity Technologies, a Galway-based IT firm, Sarah McCarthy, the head of human resources, says flexible working is as big an issue as pay when recruiting candidates.
"When I'm doing my pre-screens, one of the first questions I might be asked is: 'How many days a week do I have to be in the office?' It's as important as salary at the moment," she says.
The candidates are likely pleased with what they hear.
"We have a hybrid-working policy, with employees expected to be in the office three days per week. That's intended to help with team interaction, people's wellbeing, to help new hires and make sure that people are growing within their roles," she says.
"We don't actually have anchor days at the moment but Tuesdays and Wednesdays tend to be the most popular days and a lot of teams kind of have a bit of a second schedule in terms of what days they're in."
Beyond that, she says, they too view Fridays differently.
"On the other days we start at half eight and we finish at half five but then on Fridays we only work until half one. So we're running on a four and a half day week and at the moment it's going really well. It's a huge benefit to a lot of the staff and it's looking like it's going to be here to stay."
With many of the staff living a significant distance away from the Ballybrit office, few, predictably enough, come in for the shortened day.
"I've been in a couple of Fridays lately," says McCarthy, and the "absolute max" is 10 people in the office.
She lives in Limerick, having returned there from Dublin, in part because of property prices.
Elsewhere, McCarthy says, she has friends working for bigger, multinational firms in the tech sector where moves to bring employees back in more have "come as a shock" to the workforce.
"People have got used to having the flexibility of remote work and I don't see that changing," she says.
McCarthy says that people would be prepared to take pay cuts to work more from home. "I think that's going to be a challenge for companies to change, because people have kind of got used to it now," she says.