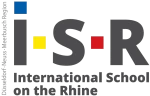 ISR International School on the Rhine
Pedagogical Director - Kindergarten
Pedagogical Director - Kindergarten.
The ISR International Kindergarten Düsseldorf is seeking to appoint a Pedagogical Director to lead a large Kindergarten starting as soon as possible.
The Pedagogical Director holds a senior leadership position and reports directly to the CEO. The Pedagogical Director is responsible for the effective educational program in the kindergarten and leads the strategic direction in line with the whole school vision and mission. The Pedagogical Director ensures that a high standard of educational instruction and learning is achieved.
Professional Responsibilities:
Strategic Direction, Continuous Development and Implementation of Educational Program
Promote the mission and vision of ISR, with clear focus and purpose
Develop, implement and evaluate the effectiveness of the educational program
Provide staff with support and guidance to implement the program successfully
Manage change judiciously
Governance of Instruction in Learning Environment:
Maintain an environment that insures high standards of planning, organization, educating, learning and behaviour
Establish an effective partnership with parents to support, motivate and accompany children on their educational journey
Leading and Management:
Determine the duties of all Early Years Educators and Assistants are fulfilled
Work with Human Resources to manage the recruitment of new staff members
Ensure systems are in place to monitor performance and review effectiveness
Develop open and honest relationships with staff, mentoring, holding workshops and/or seminars
Observe Early Years Educators in the kindergarten groups and provide constructive feedback
Work closely with other members of the Management Team
Ensure compliance with local educational authorities and accrediting bodies
Adhere to the Child Protection Policy
Experience and Qualifications:
Applicants must hold a relevant degree in Early Years Education/Child Development
Have a minimum of 4 years' proven leadership experience, ideally in international school settings
Be dedicated to delivering high-quality standard in education
Have commitment to collaboration and team building
Demonstrate strong initiative and desire for innovation
Stay current with emerging educational developments
Be practiced in operating within a culturally diverse environment
Be forward looking and have a growth mindset
Possess excellent writing and verbal communication skills
At ISR, we offer a dynamic working and learning environment that has established a reputation of academic excellence and is always striving to improve. You will always be supported by committed and welcoming colleagues, and a very loyal kindergarten community.
If you are an enthusiastic and a highly motivated educator, relish a challenge and believe that you could contribute to the growth and development our Kindergarten, we would like to hear from you.
Please email your CV and cover letter to jobs@isr-school.de. Applications will be reviewed on an ongoing basis so early applications are encouraged.
Visit our website for further information: www.isr-school.de