Lidl's graduate programme is one of the most coveted in Ireland. With only 10 places allocated per year, it receives thousands of applicants.
It's Lidl wonder with its competitive pay, award-winning training, and skills developed by one of Europe's fastest growing retailers, what's not to like?
But what exactly does it involve? "The programme itself is 18 months and our graduates start with us each September," explains James Carron, talent management specialist at Lidl Ireland, who oversees the programme.
Each graduate is taken into a specific department of the business, anything from sales and operations to marketing, human resources, procurement, logistics or construction.
"Those that are lucky enough to be selected start with a week-long induction, team building events and seminars," says Carron.
"They then spend two weeks in their specific department, getting to know their team and getting an overview of the business area they will eventually work in, before they all head off to do 12 weeks of intensive store training. It's a very hands-on programme, which means graduates will be working on live operational projects from the very beginning."
His advice to those applying is simple. "Have a passion for people and a passion for retail," says Carron.
"The programme will present you with challenges, and expectations will be high, but the rewards will more than match your hard work."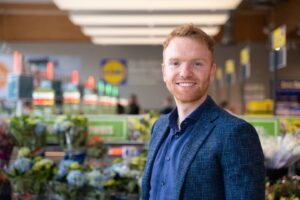 John Maher, sales operations manager, charts his story
"I'm from Dublin and I studied sports science at St Mary's University in London. I did a lot of sports growing up, GAA and soccer. My parents are from Kerry, so I had no choice!
I graduated in 2018 and did a master's in food business strategy at UCD's Smurfit School of Business. I always wanted to work in retail. My first job as a teen was working in a local convenience store. I like being customer-facing and working with people.
I went to a lot of grad fairs when I was doing my master's and knowing that retail was the industry I wanted to work in, Lidl really interested me.
The 18-months are challenging, in so far as you are given quite a bit of responsibility very quickly but you get a lot of support too so it's incredibly rewarding.
One of the best things about the job is the access to mentoring from a Lidl director. I met my mentor, a regional managing director, once a month and got incredible guidance.
I was due to finish the programme in March 2020 but by the previous December Lidl had already offered me a job as an area manager, so I started my area management training.
Initially I had five stores in counties Carlow and Kilkenny and recently moved to Dublin West. The way I see it, it's the next stage in my development."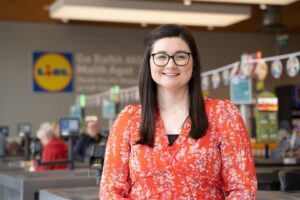 Eva Kelly, acting head of HR services, explains all
"I am from Glasnevin in Dublin. I did a BA in economics and sociology at UCD and then a master's degree in sociology. It was the people aspect of my studies that I was interested in, so I went to Smurfit School of Business and did a master's in human resources management, in 2015.
I went to a careers fair and was looking at all the stalls when I came across the one belonging to Lidl. The person I spoke to said it had a HR stream for its graduate programme and great development opportunities. They told me you get responsibility, are supported throughout, that I'd be challenged and would learn and develop and I just thought, that's what I want. So I applied and was accepted.
I spent six months in stores and warehouses. As a graduate you get to learn the business from the ground up. It's a unique way of approaching a programme and it also allows you to build relationships all over the business. The colleagues I met in my training, I'm still in daily contact with even years later today.
Lidl has more than 7,000 employees on the island of Ireland and my team is the point of contact for all of them in relation to HR services.
What I really liked about Lidl from the start was the culture. It's fast-paced but values-driven and that's important to me. As a graduate you have theoretical knowledge but in the grad programme you get training that builds all sorts of skills, from presentation to behavioural development.
I've been exceptionally fortunate in the number of opportunities I've had here. I've held various roles, working with regional teams and in head office. I've developed throughout my career, but so too has the graduate programme. It is City and Guilds accredited and has won numerous awards. Ultimately, it's all designed to help you reach your full potential.
I want to progress. Working for a global retailer, the sky's the limit as there are many international opportunities available to you. It's a brilliant culture.
What I like best about the job is identifying high potential people and helping to develop them and supporting them in shaping their career with Lidl. It's very much like coaching in football in that way, and extremely rewarding. At Lidl, you work hard but you get the rewards, whether it's health insurance or 25 days holidays.
I have to say, I'm extremely biased towards the company. I'm pro-Lidl."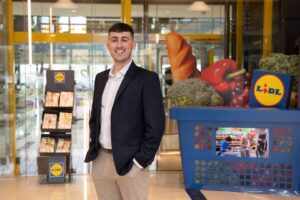 Lee Jordan, sales operations manager, on how he got ahead
"I'm from Ballina in Co. Mayo and studied business at DCU. I had worked in retail in secondary school and through college, in a sports store, and loved the buzz of it.
In my final year, I applied to the Lidl graduate programme and was accepted. What makes Lidl's programme stand out is how close the graduate group become. You all support each other and get plenty of opportunities to work together. For example, one of the tasks is to come together and host a fundraising event for our charity partner which comes with lots of learnings in itself.
For the first couple of months I completed my store training and spent the next few months working in Lidl's Glasnevin and Finglas stores.
By the following January I was shadowing an area manager, before moving into the sales department in head office. It was there I worked on the rolling out of our Waste Not concept, which is designed to reduce food waste. The campaign also gives customers really great discounts on produce.
It was an industry-leading initiative at the time and was launched by Ossian Smyth, the Minister of State. To be able to lead a project like that at 22 was just so cool.
I've since taken up a full-time position as a project manager in the sales team, looking at our people and processes and finding new ways of improving customer satisfaction.
I was then promoted to senior project manager and worked on rolling out automated ordering systems. In all, I spent more than three years in head office but to progress you really need to see how these projects impact the stores, so I'm currently training as a sales operations manager and have just taken on five stores in Co. Meath.
Lidl has a culture of coaching and mentoring. Your network is everything and you always feel you can pick up the phone, talk to your colleagues and get advice. Obviously, there's an organisational structure but not a hierarchical one, in so far as everyone is very approachable.
I'm ambitious. I'd like to keep progressing. Lidl has high expectations for you if you have them for yourself. It's a great company to work for and I'm really enjoying my job."
If you think you have the qualities Lidl is looking for and want to know more about its graduate programme click here.